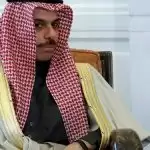 Riyadh: Saudi Arabia expects to reopen its embassy in Doha in the coming days, the kingdom's foreign minister has said, following an agreement last week that ended a three-year-old dispute between four Arab countries and Qatar.
Asked about embassy reopenings, Foreign Minister Faisal bin Farhan told journalists in Saudi Arabia's capital, Riyadh, on Saturday the issue was just a matter of logistics.
"Our embassy will be reopened in Doha within days after completing necessary procedures," he said in a news conference with his Jordanian counterpart, Ayman Safadi.
The kingdom's top diplomat said Saudi Arabia "will restore full diplomatic relations with Qatar".
Saudi Arabia and its allies – the United Arab Emirates (UAE), Bahrain and Egypt – in June 2017 imposed a diplomatic, trade and travel embargo on Qatar that included closing airspace to the country over claims it worked to support "terrorism" and was too close to Iran.