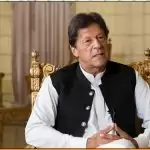 Islamabad: Pakistan Prime Minister Imran Khan has said that the country's economic future is now linked to China and the bilateral relations between Islamabad and Beijing are 'better than ever before'.
In an interview with Qatar-based media house, Imran said China's growth rate is faster than any other country in the world, and Pakistan can benefit from the manner in which China has developed and has lifted its people out of poverty.
The interview, revolving around the theme of the incumbent government completing its two years in power, touched on topics related to international and national developments and Pakistan's stance on the region's geopolitics.
"Those who were watching you two years ago still remember the promises you made about clamping down on corruption, mismanagement, unemployment, providing job opportunities, housing. For many people, you haven't so far delivered on those promises. Why?" the interviewer asked.
"Reforming the economy overnight is impossible, Pakistan has moved in the right direction over the last two years," said Imran in reply.
"Think about any economy in the world that faces similar problems that Pakistan has faced. Huge deficits, both external and internal. The power sector is in serious trouble. No country can snap its fingers and have reforms take place. Its a struggle. Reforming the economy is not an overnight thing. It takes time. You have to change the way the government works. In my opinion, in these two years, Pakistan has moved in the right direction."
Giving an example of his government, the premier said the country "has not seen any major corruption scandal because it has been controlled at the top". The Pakistan prime minister reiterated that the fight against corruption will continue.