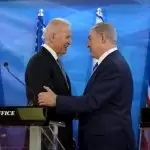 Israeli Prime Minister Benjamin Netanyahu, a close international ally of President Donald Trump, has congratulated President-elect Joe Biden and Vice President-elect Kamala Harris on their victory.
"I would like to begin by congratulating Joe Biden and Kamala Harris," Netanyahu said in Hebrew, according to a translation by NBC News. "I have a long and warm personal relationship with Joe Biden, for nearly 40 years, and I know him as a great friend of the State of Israel. I am confident that we will continue to work with both to further strengthen the alliance."
Netanyahu also thanked President Trump, who has taken several hardline positions in support of Netanyahu's government that caused controversy around the world. Trump recognized Jerusalem as Israel's capital, the disputed Golan Heights as a part of Israel, and withdrew from the Iran nuclear agreement.
"On my behalf and on behalf of all the citizens of the State of Israel, I thank President Trump once again for the great friendship he has shown for the State of Israel and for me personally," Netanyahu said. " I congratulate him on his recognition of Jerusalem and the Golan Heights, his stand with Iran, his historic peace agreements, and the fact that he has brought the alliance between Israel and the United States to unprecedented heights. Thank you, President Trump. "