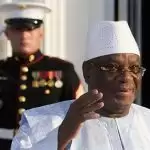 Bamako: Mali's President Ibrahim Boubacar Keita has resigned hours after mutinying soldiers seized him from his home following months of mass protests against alleged corruption and worsening security in the West African country.
The news of Keita's departure was met with jubilation by anti-government demonstrators on Wednesday, while leaders of the military coup said they would enact a political transition and stage elections within a "reasonable time".
Keita announced his decision to step down in a brief address on national broadcaster ORTM at around midnight. Looking tired and wearing a surgical mask, the 75-year-old said his resignation – three years before his final term was due to end – was effective immediately.
He also declared the dissolution of his government and the National Assembly.
"If today, certain elements of our armed forces want this to end through their intervention, do I really have a choice?" Keita said from a military base in Kati outside the capital Bamako where he and his Prime Minister Boubou Cisse had been detained earlier in the day.
"I wish no blood to be shed to keep me in power," he said. "I have decided to step down from office."
Hours later, the soldiers behind the coup – calling themselves the National Committee for the Salvation of the People – appeared on state television in military fatigues, pledging to stabilise the country.