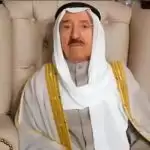 Kuwait's 91-year-old Emir Sabah al-Ahmad al-Jaber al-Sabah died on Tuesday in a hospital in the United States.
"With great sadness and sorrow, we mourn … the death of Sheikh Sabah al-Ahmad al-Jaber al-Sabah, emir of the State of Kuwait," said Sheikh Ali Jarrah al-Sabah, the minister in charge of royal affairs, in a television broadcast.
Born in 1929, Sheikh Sabah is widely regarded as the architect of modern Kuwait's foreign policy – having served as foreign minister for nearly 40 years between 1963 and 2003 – when he became prime minister.
He became Kuwait's emir in January 2006 after the death of Sheikh Jaber al-Sabah.
In August 2019, Kuwait acknowledged Sheikh Sabah suffered an unspecified medical "setback" that required he be admitted to hospital.
In July 2020, he flew to the United States seeking medical attention after undergoing surgery. A US Air Force C-17 flying hospital transported Sheikh Sabah from Kuwait to Rochester, Minnesota, home of the flagship campus of the Mayo Clinic. The high regard for Sheikh Sabah could be seen in the outpouring of support for him across the Middle East as he suddenly fell ill.