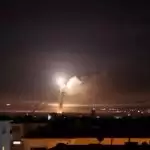 Damascus: The Israeli missile strike on Friday targeted the defence factories where a scientific research centre is located in the city of Masyaf in Hama province, Xinhua news agency quoted the UK-based Syrian Observatory for Human Rights as saying in a statement.
The Bwatchdog group said the strike destroyed weapon depots run by Iranian fighters.
For its side, the Syrian army said its air defences had intercepted most of the Israeli missiles that were fired on Masyaf.
Throughout the Syrian crisis, Israel has carried out hundreds of airstrikes against Syrian military sites, including Iranian targets.