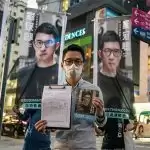 BEIJING: A U.S. citizen is among six pro-democracy activists to have arrest warrants issued for them by Hong Kong police for suspected violations under a new national security law, Chinese state media reported late Friday.
Samuel Chu, the managing director of the D.C.-based Hong Kong Democracy Council, an advocacy group, wrote on Twitter that he "woke up to media reports that I am a wanted fugitive."
He added that he had been an American citizen for 25 years.
"If I am targeted, any American/any citizen of any nation who speaks out for Hong Kong can and will be too. We are all Hong Kongers now," he wrote.
Chu was among six prominent activists named by Chinese broadcaster CCTV and other state media outlets, to have arrest warrants issued for them under the legislation that came into effect on June 30. The individuals were wanted on suspicion of secession or collusion with foreign forces — crimes that the new security law punishes with up to life in prison.
"These are trumped-up charges," said activist Nathan Law on his Facebook page, after he got news of his arrest warrant.
Law recently fled to Britain from Hong Kong after the security legislation was enacted by Beijing. He briefly met with Secretary of State Mike Pompeo in London, last month.
"That Hong Kong has no place for even such moderate views like ours underscores the absurdity of Chinese Communist rule," Law said. Vowing, nonetheless, to continue his "advocacy work overseas" adding that he had already severed communications with his family in Hong Kong for their safety.