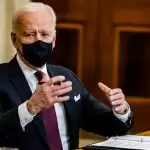 Washington: The Senate passed a $1.9 trillion COVID-19 relief bill Saturday after reaching a deal on unemployment benefits in a marathon session.
President Joe Biden's stimulus package was approved by a 50-49 votes.
The bill includes direct payment checks worth up to $1,400 per person to families earning less than $160,000 a year and individuals earning less than $80,000 a year.
It also extends scaled-back $300-per-week unemployment insurance benefits through Sept. 6, which the Senate approved in a compromise amendment shortly after 1 a.m. with all Democrats voting in favor.
The bill includes a 15% increase in benefits for food stamp recipients through September. And it includes roughly $20 billion to state and local governments to help low-income households, some larger child tax credits, emergency loans for small businesses and expanded health coverage.
The proposal to increase the minimum wage to $15 was not included in the Senate package because the Senate parliamentarian ruled last week that it did not meet the guidelines for the reconciliation process.
The Senate package will have to be approved again by the House before getting Biden's signature.