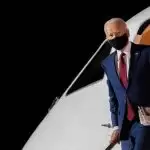 New York: The list of 820 volunteers on the $100K+ list released by the campaign on Saturday showed that Indian-Americans made up 2.5 per cent of it, more than double the proportion of the community in the country's population reflecting its deep involvement in American politics as well its status as the ethnic group with the highest income.
President Donald Trump has not released a similar list of top contribution collectors.
Overall Trump had raised $1.57 billion by last month, having started earlier than Biden whose collection was $1.51 billion.
But Biden's take has been outstripping Trump's in recent months. In the first half of October, his take was more than double that of Trump, $167 million to $82 million.
In the 2016 election, the then Democratic candidate Hillary Clinton's tally stood at $1.2 billion, double the size of Trump's $600 million.
The Biden list included prominent activists like Ajay Bhutoria, Swadesh Chatterjee, Frank Islam, Neil Makhija, Shekhar Narasimhan, M. Rangaswami and Pramila Jayapal.
Many of the Indian-Americans on the list are entrepreneurs in technology and related fields.
The Biden campaign did not say how much the volunteers had collected.
Under US laws, an individual can contribute a maximum of only $2,800 directly to a candidate, according to the Federal Election Commission (FEC).