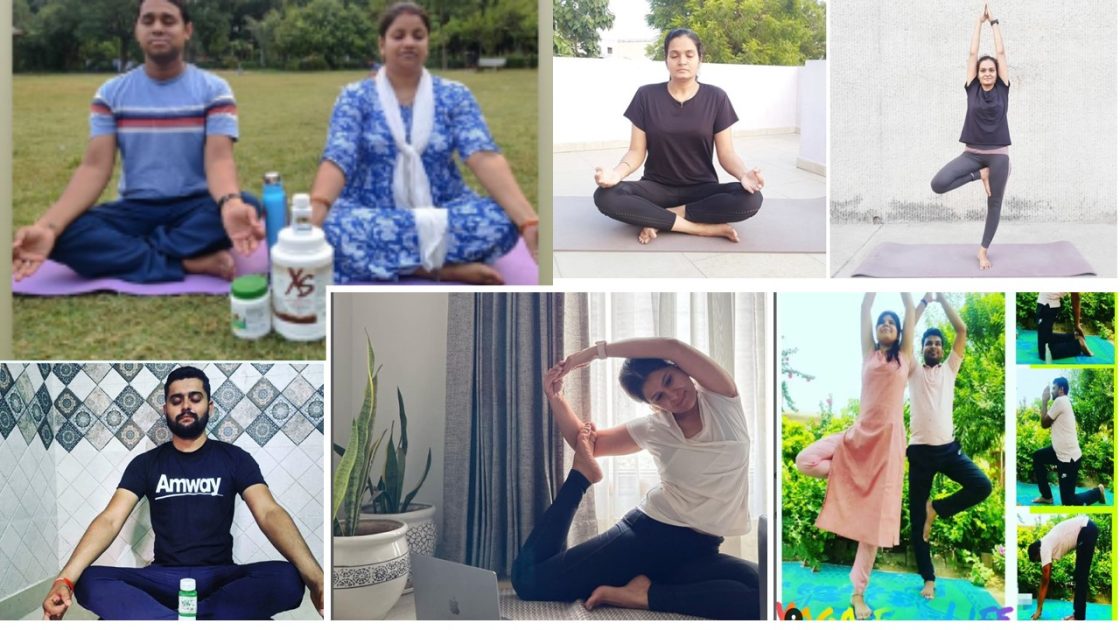 Lucknow 21st June 2023 – Driven by the unwavering commitment to enhance the quality of people's lives, Amway India, one of India's leading FMCG Direct Selling companies, embarked on a mission to empower individuals in adopting healthier lifestyles. As India eagerly embraces the annual celebration of International Yoga Day, Amway India took the center stage in emphasizing the profound significance of nutrition and yoga in achieving holistic wellbeing. With a vision to help people live better, healthier lives, Amway strives to ignite a transformative journey. And, as part of which Amway India organized series of virtual and physical yoga sessions along with expert speaker programs covering close to 2000 fitness enthusiasts across the country. The program was designed to spread the message on optimal health with a combination of good nutrition and regular physical activity such as yoga practices.
While reflecting on this occasion, Gursharan Cheema, Sr. Vice President, North & South, Amway India , said: "At Amway, we are steadfast in our conviction regarding the transformative power of nutrition and physical activity as the cornerstones of optimal health and wellness. As a global leader in nutrition, we firmly believe that wellness is multi-dimensional, encompassing physical, mental, emotional health and adequate nutrition. Good nutrition, an active lifestyle, and inner well-being are all interconnected. In recent times, the discussions around gut health have gained significant momentum, highlighting the undeniable link between the brain and the gut, also known as the 'second brain'. The food we eat can have a profound impact on our body and mind, hence the right diet can bring us in the right frame of mind when processed through a healthy medium of gut. Towards this, Amway, powered by Nutrilite, reinforces the importance of balanced and nutritious diet, as well as managing stress through practices like yoga or meditation. Yoga is as much about the body as it is about the mind, an ancient practice which has long recognized the connection between the gut and brain, predating the scientific understanding of the gut-brain axis influencing mood, emotions, and overall well-being."
He further added, " Studies indicate that incorporating traditional herbs into yoga practice can yield enhanced results, offering positive health benefits. For centuries, Indian traditional herbs have been known for their physiological benefits. In light of this, we have Nutrilite Traditional Herbs Range, which includes products such as Nutrilite Tulsi, Nutrilite Amalaki, Vibhitaki & Haritaki; Nutrilite Brahmi; Nutrilite Ashwagandha; and more to support immunity, mental agility, digestion etc. The range brings together the Best of Nature, the Best of Science with the Best of Indian Traditional Wisdom, offering assured level of Purity, Safety and Potency of herbs."
In North, the team celebrated International Yoga Day with a virtual campaign #ButFirstYoga with the aim to learn the art of balancing the Mind Body and Soul
With a growing focus on preventive health, Amway is committed to empowering individuals to take charge of their health and well-being. Amway's Nutrilite is the world's No. 1 selling vitamins and dietary supplements brand with a strong legacy of over 90 years in the plant-based approach to supplementation. Recognizing that wellness begins from within, Amway India have been promoting the concept of holistic well-being through its E.A.R.N philosophy which rests on 4 key pillars – Exercise, positive Attitude, Rest, Nutrition. Nutrilite, by Amway, has been continuously striving to help people achieve their health and wellness goals.