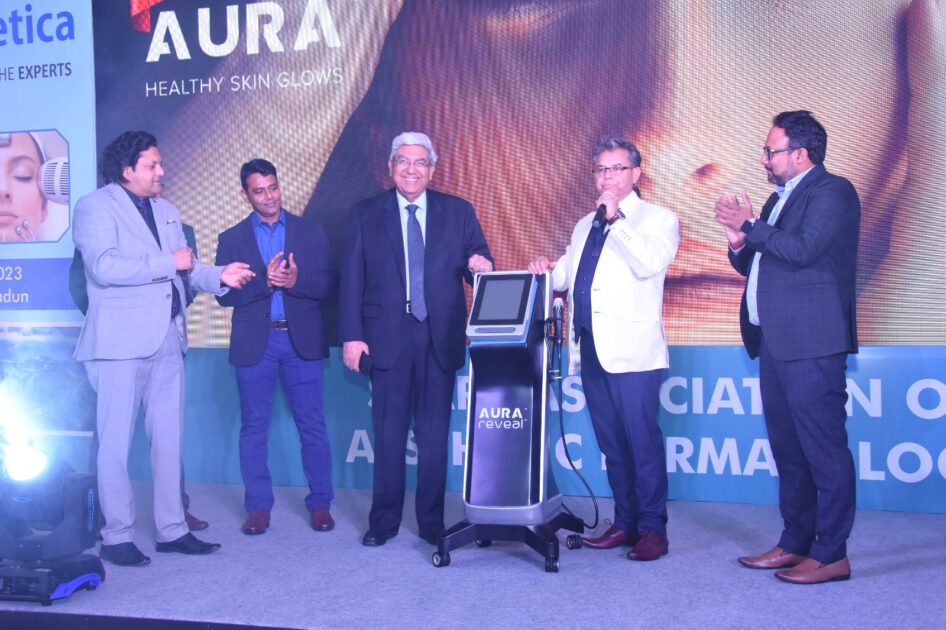 Dehradun, 8th April 2023: Dermatologists now have a new armamentarium in the form of a non surgical device for skin resurfacing & revitalization. The device is non invasive in nature. It uses intense radio frequency and thus has brought about a hope for those who are reluctant to undergo a surgery but are eager for a glowing and radiant skin. It has been specially designed keeping safety and effectiveness who are looking to combat wrinkles , fine lines , scars and sagging skin resulting from sun damage, smoking and the ravages of time.
'AURA', the device was launched today at an aesthetic dermatology conference in Dehradun. The conference was attended by 200+ doctors who constituted the finest cosmetic & aesthetic dermatologists in the country. Renowned aesthetic dermatologist from Dehradun " Dr Archana Gulati. says " Among many RF devices & technologies available in India this brings a very promising hope for skin rejuvenation and revitalisation as it stimulates the natural collagen building process of the body "
Dr Ajay Sharma, a leading senior dermatologist from Merrut shared " Now a days patients want highly efficient results & small sittings that's safe & comfortable too., AURA fits the bill & claims to give smoother , tighter & more youthful looking skin in a lunch time session in 2/3 sittings" The treatments involve machines that heat the tissue using radio-frequency energy. The energy they generate stimulates the growth of collagen, a fibrous protein important in maintaining the face's youthful look.
Unlike with surgical face-lifts, or older-style laser resurfacing, which removes the top layer of skin, a person treated with AURA doesn't have to stay indoors until the face heals rather patients can go back to their regular routine immediately after the procedure. Kuntal Debgupta,The CEO of Reveal lasers for India & Saarc operations quoted that "Reveal Lasers strives on innovations & we ensure to make all our procedures safe and effective with minimal pain and discomfort to patient"