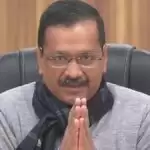 Arvind Kejriwal, the national convener of the Aam Aadmi Party (AAP), invited Delhiites on Monday to join the party's digital campaign by showcasing the "excellent work" of the Delhi government on social media platforms, ahead of the important assembly elections next month.
Read also- Budget in Punjab will be based on public opinion: Kejriwal
The AAP chief launched his party's "Ek Mauka Kejriwal Ko" campaign, urging residents of Delhi to post short videos on social media of their "good experience" with the AAP-led Delhi government's achievements and urging voters in Punjab, Uttar Pradesh, Uttarakhand, and Goa to vote for the party.
"Make videos about how you benefited from the good works of the Delhi government and share them on Twitter, Instagram, Facebook, Whatsapp, and other social media platforms, urging people to give Kejriwal a chance if they want similar good works in their states as well," the Delhi chief minister said. "Also, send your films to people you know in these states, pleading with them to give Kejriwal a chance," he continued.
The AAP has already stated that it will run for all seats in the next assembly elections in Punjab, Uttar Pradesh, Goa, and Uttarakhand.
Read also- Badal asks Kejriwal not to allow bias on Bhullar's release
Kejriwal stated that AAP's most precious asset is the support of the people of Delhi, despite the fact that his party does not have "millions of dollars" to spend on elections. "We were able to transform Delhi because the people believed in us and gave us the opportunity to create the government." "If people in other states believe and support us as much as Delhiites do, we will be able to reproduce the Delhi model in other parts of the country," he said.
After the elections, Kejriwal vowed to arrange a banquet for the makers of the top 50 videos.