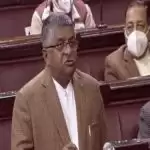 New Delhi: Taking a stern stand, the government on Thursday said the social media firms will have to completely abide by the laws of the land, else strict action will be taken against them.
Replying to a supplementary questions in the Rajya Sabha, Union Minister for Electronics and Information Technology Ravi Shankar Prasad said that the Government respects freedom of expression on social media but if it spreads misinformation, incite violence or attempts to influence the elections, the Government will not hesitate to take strict actions against them.
He further said that the companies operating these platforms will have to work in a fair manner and in accordance with the laws.
Mr Prasad confirmed that the government has recently taken up a matter with Twitter officials in connection with the controversy over some posts.
On being asked to take action against fake news by media channels, Mr Prasad said, "My department takes action from time to time on the issue. This government is led by leaders who have fought for the freedom of media. We fought during Emergency, be it PM Modi or Mr Rajnath. Our commitment to individual freedom and judiciary is intact."