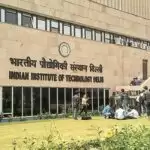 Three new laboratories concentrating on electric vehicle technologies opened at the Indian Institute of Technology (IIT) Delhi. Battery Research Laboratory, Charging Infrastructure Laboratory, and Automotive Health Monitoring (AHM) Laboratory are the three new laboratories within the Centre for Automotive Research and Tribology (CART).
According to an IIT Delhi release, the Battery Research Laboratory has modern technology for battery testing at the cell, module, and pack levels. It further said that, in addition to the batteries, testing on the Battery Management System (BMS) in a master-slave configuration is done to check for any problematic cell conditions. This is done by merging cloud BMS and Digital Twin.
Read also: Delhi govt, IIT Kanpur join hands to find out real time pollution data
The AHM laboratory is outfitted with top-of-the-line technology for condition monitoring and NVH (Noise, Vibration, and Harshness) testing in automobiles. The team will employ Artificial Intelligence (AI) and the Internet of Things to discover faults using various diagnostic techniques, including vibration analysis, current monitoring, noise monitoring, infrared thermography, and acoustic emission (IoT).
CART at IIT Delhi focuses on high-end research and development in battery-powered electric cars, hybrid electric vehicles, storage and alternative energy sources, and autonomous and networked vehicles. These facilities will elevate CART's continuing research to a new level, bringing several cutting-edge technologies to the industry."
Read also: Delhiites can soon skip visiting banks for hypothecating vehicle loans
"The CDS is utilised as a global charging infrastructure, which permits to test Electric Vehicles (EVs) and Electric Vehicle Supply Equipment," said Prof B.K. Panigrahi, Head, CART (EVSE). The charging infrastructure laboratory has a wide range of testing capabilities for all charging operations of electric cars and chargers." He said, "The team also focuses on sound quality enhancement, automotive noise source detection, mitigation, and isolation by producing acoustic materials from natural resources, bio-waste, and recycled materials."