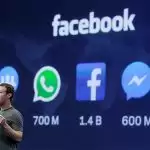 New Delhi: Controversial social media company Facebook on Friday said it has nothing to do with any party and will continue to remove objectionable content posted by leaders from its platform. Facebook has alleged that it did not implement hate speech rules on the posts of some leaders of the ruling BJP. In a recent Wall Street Journal report, it was alleged that Facebook's content policies are not being followed without discrimination in India and the BJP is being softened. Since then, there has been an uproar in the BJP and the Congress.
Facebook India Vice President and Managing Director Ajit Mohan said in a blog post, "Facebook is an open and transparent platform and does not support any party or ideology. People are free to speak on this platform. During the last few days, we have been accused of bias in implementing our policies. We take these allegations seriously and want to clarify that we condemn every form of hatred and bigotry. '
Mohan said that Facebook has a fair policy to deal with content and strictly adheres to community standards. He said, 'We implement these policies all over the world and do not care about anyone's political position, ideology or religious and cultural beliefs. We have removed the objectionable content posted by the leaders from our platform and will continue to do so even further.