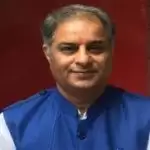 New Delhi: Indian National Congress Spokesperson Rajiv Tyagi has passed away today due to a heart attack. It is being told that he had a heart attack after taking part in a TV debate on Wednesday evening. According to reports, he was admitted to a private hospital in Ghaziabad due to deteriorating health. He died shortly after. Secretary of Congress (Communications) Dr. Vineet Poonia informed about his death.
Tyagi tweeted from his Twitter account at around 4:30 pm on Wednesday evening.
While informing about the demise, Dr. Poonia tweeted, "Indian National Congress spokesperson and senior Congress leader Mr. Rajiv Tyagi is no more. My heartfelt condolences to his family and fans."
BJP leader Sambit Patra wrote that "Can not believe my friend Mr. Rajeev Tyagi, spokesperson of Congress is not with us. At 5 o'clock today we both debated together. Life is very uncertain … still words Can't find it.