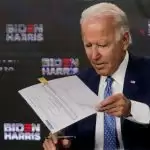 Washington: Former Vice President Joe Biden declared that November's general election will be "life-changing" while saying President Donald Trump has "cloaked America in darkness" as he accepted the Democratic Party's presidential nomination Thursday night.
Biden, who had sought the nomination in 1988 and 2008 before serving two terms as vice president under President Barack Obama, declared that the United States is facing four converging crises: a global pandemic, an economic crisis, racial injustice and climate change as he spoke to end the fourth night of the Democratic National Convention.
"This is a life-changing election that will determine America's future for a very long time," he said. "Character is on the ballot. Compassion is on the ballot. Decency, science, democracy. They're all on the ballot."
He also took aim at Trump, saying he has brought "too much anger, too much fear, too much division" to the White House, while pledging to serve as "an ally of light" if elected.
"While I will be a Democratic candidate, I will be an American president. I will work as hard for those who didn't support me as I will for those who did," Biden said. "That's the job of a president. To represent all of us, not just our base or our party. This is not a partisan moment. This must be an American moment."
Biden pledged to combat climate change, defend social security and Medicare, stand with U.S. allies while not "cozying up to dictators" and question whether this will be the generation that "finally wipes the stain of racism from our national character."