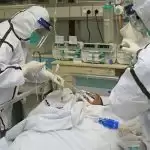 Geneva: The number of new Covid-19 cases worldwide has reached a record high at 212,326 cases in the last 24 hours, according to a situation report from the World Health Organization.
The report says there have been more than 10.9 million confirmed Covid-19 cases globally, with 212,326 new cases in the last 24 hours. There have been at least 523,011 deaths around the world since the pandemic began, with 5,134 of those deaths reported in the last 24 hours.
The virus, which first emerged in China, has spread around the world with the epicenter shifting from East Asia to Europe and then to the Americas. The biggest increase reported Saturday occurred in North and South America, which saw 129,772 new cases in the last 24 hours, bringing the total in the region to nearly 5.58 million.
Southeast Asia had 27,947 new cases with India and Bangladesh seeing the biggest increases in the region. The Eastern Mediterranean region saw 20,043 new cases with Saudi Arabia, Pakistan and Iran the hardest hit. Europe saw 19,694 new cases with the biggest increase in Russia. Africa had 12,619 cases which were overwhelmingly reported in South Africa, and the Western Pacific, which includes China, had 2,251 new cases.
Europe has a total of 2.75 million cases, the Eastern Mediterranean has 1.13 million, Southeast Asia has nearly 900,000, Africa has more than 342,000, and the Western Pacific has nearly 222,000 cases.
The WHO noted that factors like case detection, definitions, testing strategies, reporting and lag times differ between countries, territories and areas. A top official with the agency warned this week that some countries may have to reintroduce lockdown measures as they struggle to contain the virus.