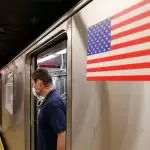 Washington: The number of US coronavirus infections rose by at least 39,818 cases at the end of Thursday, according to a Reuters news agency tally, marking the biggest daily increase in the country since the start of the pandemic.
Several states across the US have reported record rises in cases this week, including Texas, Alabama, Arizona, California, Florida, Idaho, Mississippi, Missouri, Nevada, Oklahoma, South Carolina and Wyoming.
More than 36,000 new cases were recorded nationwide on Wednesday, a few hundred shy of the record 36,426 on April 24.
US sent $1.4bn in relief payments to dead people
Nearly 1.1 million coronavirus relief payments totalling some $1.4bn went to dead people in the United States, according to a new government watchdog study.
The finding came in a Government Accountability Office report that reviewed payments from a $2.4 trillion coronavirus relief package enacted in March. The erroneous payments were made because of confusion over whether dead people should receive payments, the report said.