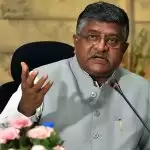 New Delhi: Narendra Modi government minister Ravi Shankar Prasad has also isolated himself. According to the information available, his health is good now but despite this, he has isolated himself as a precaution. Actually, Ravi Shankar Prasad has made this decision after Home Minister Amit Shah came to Corona positive.
Ravi Shankar Prasad met Union Home Minister Amit Shah on Saturday evening. For this reason, as a precaution, they have decided to quarantine themselves.
Sources have given this information. The source said that though Prasad has no symptoms of any kind, he has decided to separate himself from the current rules. It is noteworthy that the Union Home Minister Amit Shah on Sunday advised those who visit him to take precautions as well.