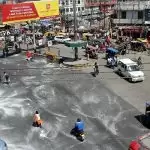 Meerut: Two patients died in Meerut today and 12 new Covid cases were confirmed. Today's testing of 342 samples has revealed these new patients.
According to the report of the Health Department, the total number of corona infected in Meerut has now reached 967 with 257 active cases while 641 patients have been discharged after treatment. Today 567 samples were sent for the test, while the report of 606 test samples is still awaited. Till date 24573 samples have been tested in Meerut.
In the city today, two patients suffering from corona died. In this way, the number of people who died of corona in Meerut has increased to 69.