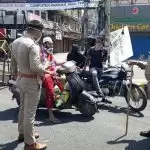 Meerut: Two corona infected died in Meerut today and 18 new cases have been confirmed. In this way the number of deaths from corona in Meerut has increased to 63. At the same time, the total number of infected people has increased to 835.
According to the report released by the Health Department, in the 265 samples tested today, 18 reports have come out positive. There are currently 234 active cases in Meerut while 538 people have been discharged.
Today 584 samples have been sent for the test, while the testing report of 900 samples is pending. The Health Department could not give a satisfactory answer on why the report of so many samples is pending. One of those who died was 80 years and the other 59 years old male.