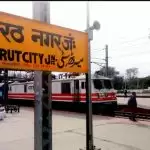 Meerut -Three corona positives have been found again in Meerut on Monday. Two of them are from Hapur, while one is said to be from Jharkhand. So far, a total of 58 cases have been received in Meerut. Apart from this, in Meerut today, 36 people have been shifted from Quarantine ward to Home Quarantine.
On Monday, 13 samples from Meerut were examined in the Microbiology Lab of the Medical College, in which three Corona positives have come. There is a deposit in them which is from Jharkhand She was quarantined in Subharti. Apart from this, two Purvas are residents of Fayyaz Ali and they are contacts of Jamaatis.
The total number now stands at 58 in Meerut. One of these people has died, while nine people have returned to their homes after recovering. Now 48 patients of Corona are undergoing treatment.