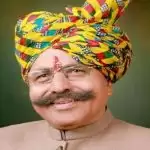 Lucknow: Chaudhary Udaybhan Singh, Minister of State for Micro, Small and Medium Enterprises of Uttar Pradesh was found covid 19 infected on Wednesday. He has been admitted to the Sanjay Gandhi Institute of Medical Sciences (SGPGI), Lucknow, on Wednesday afternoon, where his condition is said to be stable. SGPGI Director Prof RK Dhiman told 'Bhasha' that "the minister has been admitted after noon and his condition is stable".
Udaybhan Singh is a Bharatiya Janata Party MLA from Fatehpur Sikri in Agra. According to sources, all the MLAs were asked to conduct a Covid-19 inquiry before the assembly session starts on Thursday. During this investigation, the Minister of State was found infected.
Earlier on Tuesday, Atul Garg, Minister of State for Medical Health and Family Welfare, Maternal and Child Welfare of Uttar Pradesh, was found to be confined. He was admitted to Yashoda Hospital in Ghaziabad. Earlier, two ministers of the state's Yogi cabinet, Kamal Rani Varun and Chetan Chauhan, died recently from covid-19. The monsoon session of the UP Legislative Assembly will begin on Thursday.