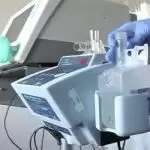 Washington: The US on Wednesday handed over the final shipment of 100 more ventilators to India on the basis of President Donald Trump's offer of assistance to New Delhi in the battle against COVID-19 pandemic.
The ventilators are manufactured in the US and are compact, said US Embassy in a statement.
US Ambassador Kenneth Juster said, "We are very pleased to hand over the final tranche of 100 ventilators to India, fulfilling President Trump's commitment to provide these critically needed supplies to support India's pandemic response."
The US government, through the US Agency for International Development (USAID), in coordination with the Indian government and the Indian Red Cross Society, donated the second shipment of 100 new, state-of-the-art ventilators to assist India in its fight against Covid-19, the statement said.
The first shipment of 100 ventilators arrived in India on June 14.