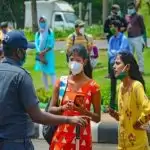 New Delhi: The rate of infection of coronavirus in India is increasing rapidly. The average rate of new patients receiving corona daily is 3.6 percent. Which is the highest in the world. In the US with the highest 39 lakh patients, this rate remains half that of India, 1.8%.
Between July 1 and July 19, 5 lakh 37 thousand new patients were found in India. Nearly similar patients were found in four months from 30 January to 30 June. Till July 8, the number of new patients in the country did not go above 25 thousand even once, but now about 40 thousand corona positive are coming out every day. With this, it is taking just 19 days to double the patient in India. Until a month ago, the number of corona patients was doubling in 25 days.
So far, more than 11 lakh people in the country have become Corona positive. Accordingly, by August 8, the total number of corona infections in the country can reach 2.2 million. If this pace does not come down, by the end of August, the Corona positive figure in the country could cross 44 lakhs.