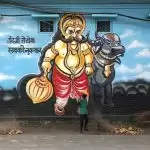 New Delhi: India, which has consistently denied community transmission, has now reached the fourth position in the list of countries affected by corona infection. India today overtook Britain and Spain in this matter. According to the website worldometers.info, the number of corona infected people in India has now risen to 297,205. America, Brazil, Russia are now ahead of India. Even today in death rate, India has reached number 11, leaving behind Iran.
Meanwhile, the Health Ministry said on Thursday that the recovery rate of corona in the country has gone up to 49.2 percent. The number of cured patients has exceeded the active case. At the same time, ICMR has said that there is no community transmission in India and the death rate is also lower than other countries.
In a press conference, Lav Aggarwal, Joint Secretary in the Ministry of Health said that we should compare with a country whose population is equal to ours. We cannot compare those whose population is much less than our country.
At the same time, Indian Council of Medical Research (ICMR) Director General Balram Bhargava has so far infected only 0.73 percent of the population in the country with the corona virus. The best part is that the mortality rate of Covid-19 patients here is also one of the lowest in the world.