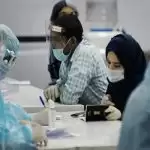 New Delhi: India on Sunday became the third most affected country in the world by corona virus, beating Russia. According to covid19india.org, there were 6.97 lakh cases in India by 11 pm on Sunday. So far, more than 23 thousand cases of corona have been found in India. According to the data received on Sunday, 6,97,101 cases have been confirmed in the country so far. While 19,700 people have lost their lives. Till date 420 patients have died.
Maharashtra: 6,555 new cases of corona were reported in Maharashtra in 24 hours and 151 people lost their lives. The total number of cases in the state has now increased to 2,06,619, while the figure has increased to 8,822 after the total number of dead. There are still 86,040 cases active in the state.
Delhi: With 2,505 new cases of Corona virus infection reported in Delhi on Sunday, the total figure has reached close to one lakh, while the number of people who died here due to this epidemic has increased to 3,067. Officials gave this information. According to a bulletin from the Delhi Health Department, 63 people died on Sunday in the national capital from Corona virus infection.
Tamil Nadu: The total number of infected people reached 1,11,151 on Sunday after 4,150 new cases of corona virus were reported in Tamil Nadu. The state health department gave this information. The department said in a bulletin that 4,150 new cases of the epidemic have been reported in the state while the death toll has increased to 1,510 with the death of 60 more people.
Andhra Pradesh: Andhra Pradesh received a record 998 fresh cases of corona on Sunday, while 14 deaths occurred. The total cases in the state have now increased to 18,697. At the same time, the death toll has increased to 232.
Madhya Pradesh: 326 new cases of infection with Corona virus were reported in Madhya Pradesh on Sunday and with this the total number of people found so far infected with this virus has reached 14,930. Covid-19 has confirmed 10 more deaths in the state in the last 24 hours, taking the death toll to 608.
Punjab: 175 fresh corona cases were reported in Punjab and two people lost their lives. Total cases in the state have now increased to 6,283, of which 4,408 have been recovered, while 164 people have died.