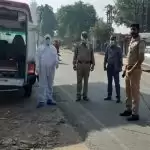 Meerut: Covid-19 cases in Meerut surpassed 1900. Out of the 2705 samples tested, only 27 reported positive results.
According to the Health Department's medical bulletin, so far 1910 cases of corona have been found in Meerut. According to the bulletin, so far 80245 samples have been tested in Meerut, out of which 73373 reports have come negative.
Today the Health Department has sent 2700 samples for testing, while the report of 962 samples is pending. The number of deaths from corona in Meerut so far is 86.