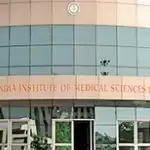 Patna: The corona vaccine that the country is eagerly waiting for, its first trial on humans has started in Patna AIIMS. Today, for the first time in the country, a dose of this vaccine was given to a person. This dose was given in Patna AIIMS. The one who has been given this is a young man and belongs to Patna. Due to the rules related to the confidentiality of the trial, his name is not being revealed. The team of expert made in Patna AIIMS trialed the vaccine on a 30-year-old man and has been given a half-ML dose.
It is said that after giving the vaccine, it was kept in observation for about 4 hours, then sent home. This person has been called again after 7 days. It is being told that after 14 days, they will be given second dose. Till now, no such trial has been conducted in any institution.
Patna AIIMS director Prabhat Kumar Singh said that 18 people had been tested so far. More people are yet to come, who will be given this dose. After conducting the first human trial in the country, the excited team of Patna AIIMS today tested the vaccine on 6 more people.