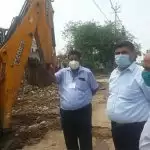 Meerut: Nearly 50 new corona cases are being found in Meerut for the last several days. Even today, of the 2910 samples tested, 42 reported positive.
According to the report of the Health Department, after receiving 42 new corona patients in Meerut today, the total number of patients has now increased to 1593. There are 467 active cases while the discharge cases are 1058. There is no information on the death of any Corona victim in the city today.
So far, 54137 reports have been negative in testing 61478 samples. According to the report, 2739 samples were sent for testing today, while the test reports of 2864 samples are awaited.