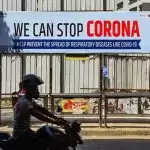 Most affected states Maharashtra and Tamil Nadu
New Delhi: Amidst growing cases of corona virus across the country, the Union Health Ministry said that 86 percent of the cases of the disease in the country are confined to 10 states. Also, the Health Ministry said that the recovery rate of 20 states is better than the national average of 63 percent.
Rajesh Bhushan, special work officer in the Ministry of Health, said that Maharashtra and Tamil Nadu are the two most affected states of Corona and 50 percent of the total people undergoing treatment for the virus are from these two states.
A Health Ministry official said on Tuesday that Karnataka, Delhi, Andhra Pradesh, Uttar Pradesh, Telangana, West Bengal, Gujarat and Assam are the other corona-affected states, with 36 per cent of patients receiving treatment. Rajesh Bhushan said that the number of people who got cured due to Kovid-19 is 1.8 times more than the present people.
Regarding the investigation of Covid-19 among the fastest growing corona infection cases in the country, he said that currently 22 states are doing 140 tests per million population per day. On the death rate of corona in the country, he said that the death rate from corona at the national level is 2.6 percent and it is rapidly decreasing. He claimed that India has a relatively low mortality rate compared to global cases.