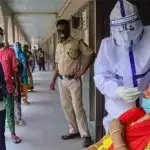 The number of corona infected in Meerut has increased to 2572. Of the 2359 samples tested today, 40 reported positive.
According to the Health Department, the number of people undergoing treatment in Meerut at present is 357, while the number of people who are completely healthy and discharged from the hospital has increased to 2117.
Today 2341 samples were sent for testing by the Health Department. Till date, a total of 115606 samples have been tested in the city, out of which 113011 reports have come negative.