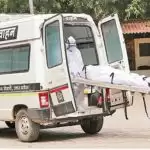 Meerut: Corona infection continues to spread in Meerut. Even today 35 corona patients were confirmed in the city. Apart from this, one corona victim has also died.
According to the report of the Health Department, 35 out of the 1954 samples tested today have come out positive. The total number of corona-infected people in Meerut has now increased to 2069, in which 268 people are also being treated in covid hospitals while 1712 people have been discharged after treatment.
In Meerut today, a 60-year-old man from Dhindala village died of corona infection, thus the total number of people who died from corona in the city now stands at 89.
According to the Health Department, 1913 samples were sent for testing today. Currently waiting for the test report of 661 samples. Till date, a total of 92476 samples have been tested, out of which 89746 reports are negative.