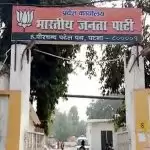 Patna: Amidst the ongoing corona crisis in the country, there are reports of 25 people being found corona infected simultaneously in the BJP's Patna office. Bihar has assembly elections in November this year. In such a situation, in the midst of the Corona crisis, all the parties in the state are also preparing for elections. It is believed that the number of infected people may increase further.
In fact, according to reports, on Monday, the ICMR team took a sample of 75 people to the party office for the test. In this case, some more reports are yet to come. Significantly, the BJP is also busy in the preparations for the election and meetings have been held daily for this in the party office.
According to the report, the test report of many leaders including the organization General Secretary Nagendra Nath, State General Secretary Dinesh Kumar, State Vice President Radha Mohan Sharma have come positive. After the matter came to light, people coming in contact with the infected leaders are now being identified.