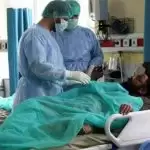 Meerut: There has been a slight decrease in the number of corona infected cases in Meerut today. The reason for this may be less testing than yesterday. There were 427 samples tested in Meerut yesterday, of which 33 reported positive, while today 356 samples were tested, of which 25 reported positive.
According to the report of the Health Department, the total number of patients suffering from Corona virus has now reached 728 in Meerut, of which 230 are active cases while 443 patients have gone home after treatment.
As far as deaths from Corona are concerned, one death has taken place even today. The 86-year-old elder of Prahlad Nagar has died today. At the same time, another corona patient from Delhi also died, but the Health Department is not counting that death in Meerut. Thus far the number of deaths from corona in Meerut has been 55.
Today 614 samples were sent for testing in Meerut. According to the report, so far 19164 samples have been sent for the test and so far the report of 17812 samples has come negative.