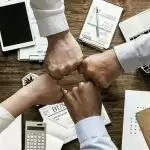 The five most important principles of Business Management are Planning, Organizing, Leading, Staffing, Controlling.
Planning is basically mentioning what are the goals and what is the action plan to achieve the set goals based on the existing and new resources.
Organizing is about maintaining good employer-employee relations in order to achieve the goals of the company.
Leading involves encouraging employees to work with a vision and mission and communicating with them effectively.
Staffing is all about hiring the right person for the right job in team and departments.
Controlling is about evaluating the performance and taking actions to establish standards.
By Sahana Iyer