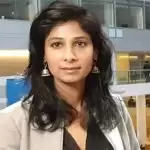 The global economy will be hit even harder by the coronavirus pandemic than economists predicted earlier this year, but the world could bounce back faster than previous financial downturns, the International Monetary Fund said Tuesday.
The IMF said in April that the global economy would likely shrink by 3 percent due to the outbreak, which prompted countries to issue stay-at-home orders and order non-essential businesses to close. The agency has dubbed the economic fallout the Great Lockdown
Gita Gopinath, the IMF's chief economist, said that contraction could be even worse than predicted.
"For the first time since the Great Depression, both advanced and emerging market economies will be in recession for 2020," she wrote in a blog post. "The forthcoming June World Economic Outlook Update is likely to show negative growth rates even worse than previously estimated.
"The resulting economic crisis is unlike anything the world has seen before."
Despite the dire tone of her message, Gopinath said it's possible the global economy will bounce back to health faster than previous financial crises.
She said the downturn "has dealt a uniquely large blow to the services sector."