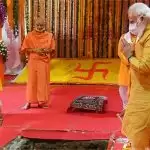 Government priority is questionable
Ubaidullah Nasir
With the second stone laying and Bhoomi Pujan ceremony of Ram Temple at Ayodhya by Prime Minister Narendra Modi the long cherished dreams of millions of Hindus are going to take a real shape. I wish to remind here our esteemed readers that first stone laying ceremony and bhoomi pujan of this proposed temple has already taken place in 1989 and I as a reporter have covered that event. In fact that was the first major assignment given to me by my Editor. The litigation of this dispute that started in December 1949 after an idol of lord Rama was placed in Babri Masjid continued for about seventy years and came to its logical end when supreme court gave its final verdict paving the way for the construction of Ram Temple at the debris of Babri Masjid. The Supreme Court also ordered the UP government to give 5 acres of land in Ayodhya for construction of a Masjid. Though the court has ordered to give land in Ayodhya city but the government of UP gave the land in Ayodhya district that was earlier Faizabad district. The place where the land has been allotted for construction of Masjid is about thirty km away from the real site of erstwhile Babri Masjid. A major section of Muslim community was and is against accepting this land but the land is given to Sunni Central Board of Waqfs which is government body and naturally a government body could not refuse the land ordered by Supreme Court. Sunni Waqf Board has clarified that it is planning to construct a mosque a hospital a community kitchen and a research cum study centre at this land.
What the construction of Ram temple signifies? Does it establishes Hindus superiority over Muslims or a revenge by Hindus who claims that Babar an invader destroyed their Bhagwan Ram's birth place and constructed a Masjid that keeps Hindus reminding their defeat and now when they are in power they have undone the historical injustice. This claim by a section of Hindus that Lord Ram's birth place was destroyed by Babar has been denied by Supreme Court itself so now onwards this section of Hindus mostly from Sangh Parivar should stop spreading this falsehood, but be sure they will not as the motive behind such movement is purely political and Sangh's (BJP ) politics survives only on Muslim bashing.
Supreme Court has accepted all the claims by Muslim side mainly 1- Babri Masjid was not constructed by demolishing any temple 2- On December 1949 an idol of Lord Rama was illegally put in the mosque 3- Namaz was being offered in Babri Masjid till 1949 and 4 Demolition of Babri Masjid on 6th Decemeber 1992 was illegal. It is very difficult almost impossible to understand that while accepting these four basic facts how the Supreme Court handed over the disputed site to Hindu party. Even many retired Supreme Court judges like Justice Lokur Justice Banerjee Justice Katju Justice Sawant Justice Shah etc. have criticized the judgement but according to another retired Chief Justice of India Justice Sabharwal "we may be wrong but we are final".
The judgement, the foundation laying by Prime Minsiter and the triumphism being displayed by media and a section of society put a question mark on our constitutional democracy mainly our secularism which Supreme Court had declared as a basic character of our constitution which may not be changed even by parliament. Can now we claim to be a secular democracy why the line between religion and state has been erased? Many observers have objected Prime Minister and Chief Minister's presence in the foundation laying ceremony of a temple. There line is that constitutional norms and decency prohibits these leaders from attending any religious function but as usual they all have been branded as anti Hindu by Sangh parivar and highly saffronised media mainly TV channels and Hindi newspapers. In his speech the PM however avoided Sangh's war cry during the movement ie Jai Shri Ram and recited the traditional Jai Siya Ram. Actually in her tweet Congress leader Priyanka Gandhi has recited this slogan and PM was compelled to recite it as it is inclusive and compassionate while Jai Shri Ram is violent and war cry. Political observers are of the opinion that the event will be used by BJP not only during Bihar and Bengal assembly elections but by the completion of construction UP assembly elections will be announced. There is hardly any doubt that BJP will keep the tempo alive till next general election.
In the meantime, Corona infected patients in the country have crossed 2 million marks economy as usual is in doldrums and Chinese aggression and occupation of Indian soil is a hard fact even accepted by union home ministry though it was later removed by its website but the fact is fact. Overlooking all these facts government's priority of Ram temple shows how serious it is in running the government and solving peoples problem rather than giving the lollypop of Ram temple which may satisfy the ego and may give sadistic pleasure to a section of society but is not going to solve country's problem.