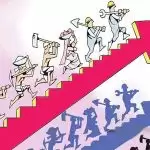 Ubaidullah Nasir
Union Finance Minister Nirmala Sitaraman had announced a package of stimulus for festive season in an attempt to stir the economy from present crisis. She has offered incentives to consumers to spend more that will create more demand that will naturally result in more production and subsequently more jobs. Economists from the day one have been suggesting the government to give more cash in the hands of public so that their purchasing power is increased and the wheel of economy will move. Congress leader Rahul Gandhi after discussing the issue from reputed economists had also been suggesting the same. Earlier the government announced stimulus package but they were meant only for repayment, interest moratorium or to medium and small scale industries that have failed to give desired results. This time the finance minister has proposed Rs. 73000 in public expenditure including Rs.28000 crore on leave travel concessions (LTC) vouchers and encashment by government employees, Rs. 8000 crore on prepaid special festival advance Rs.12000 crore capital investment by states via 50 years interest free loan from centre and Rs. 25000 crore additional capital spending on infrastructure projects by centre in FY 2020-21. Ms Sitaraman said that if private sector offered similar LTC benefits to their employees that would have an additional impact of Rs. 28000crore which would take the total demand stimulus package to over 1 lakh crore. But given the financial health of private sector due to Pandemic Covid 19, lockout and earlier due to GST and demonetization it seems difficult that private sector will be able to offer such package to its employees as most of them have already retrenched and shown door to their staff and have cut their salaries from 10 to 50% as the case may be.
Finance Minister Nirmala Sitaraman must be appreciated for realizing the truth her announcement of the stimulus and measures to boost consumer spending is a clear acknowledgement that people spending and purchasing their going on tourism is a important step forward to boost the economy 'better late than never. We should remember that just three or four days ago the Reserve Bank of India in its consumer confidence survey said "discretionary spending was expected to remain low in near future even though people hope improvement in economic situation including better job prospects"
But there are riders to this stimulus package also. Two things stand out in her announcement first government has specified where to spent this money it has doused any excitement among the beneficieries ie 35 lakh odd central government employees for example they could purchase only those goods on which GST is paid it has almost ensured sub optimum outcome in terms of impact on growth. .The government choose to package the benefit to its employees during the time of pandemic infused economic stress. Ms. Sitaraman showing her care and concern for poors and nongovernment employees who are not to be benefited with her largesse had advised them to
be incentivized to contribute to the revival of demand for the benefit of the less unfortunate. Surprisingly she thinks that in a population of 135 crore just 35 lakh government employees out of government bonanza they are going to receive will be able to revive the demand? Will they spend the money given the any restrictions the ministry has proposed?
Secondly allowing payment of cash in lieu of leave travel concession (LTC) entitlement for 2018-21 block (air or rail fare plus leave encashment for 10 days) the finance ministry said "the employees must buy goods and services worth three times the fare and as much as leave encashment and must do it before March 31and further they must spend only in goods attracting 12% GST or more from GST registered vendors and have to submit the invoice for the goods and services purchased. Will not this defeat the larger purpose of reviving demand? This means if a government employee gets one lakh rupees out of this largesse he /she had to spend 3 lakhs from where these two lakhs will come is a big question. The choice of what to purchase and from where to purchase is best to be left in the hands of buyer I e government employees in this case. This is not cash transfer but entitlement that is being paid in advance and by specifying conditions it may end up holding them back from spending and thus the very purpose of this largesse will die and employees enthusiasm will be doused.
The capital expenditure for the centre and states may be helpful given the multiplier effect of spending in infrastructure projects and its long term impact. But according to experts, it is too small to make any worthwhile difference. The fact remains that the economy contracted 23.9% in April June quarter of this year and RBI has estimated that GDP will contract 9.5% in 2020-21,so only a big fiscal intervention by the central government in infrastructure or direct support to those who lost job due pandemic could only be meaningful.
Disclaimer: The views expressed in this article are the personal views of the author. Buzinessbytes is not responsible for the accuracy, completeness, practicality or truthfulness of any information provided in this article. All the information has been presented in this article as it is. Any information or facts or opinions expressed in this article are not of buzinessbytes, and buzinessbytes is not liable in any way for them.