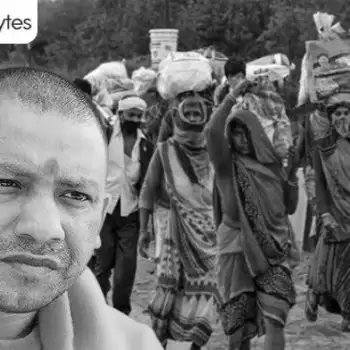 Ubaidullah Nasir

Realising the severe and deadly Covid 19 attack in UP and collapse of health care system in the state the Allahabad High Court on Monday ordered a weeklong lockdown in five major and most affected districts of UP that includes state capital Lucknow, Prayagraj, Varanasi, Kanpur and Gorakhpur. A division bench of Allahabad High Court consisting of justice Ajit Kumar and justice Siddharth Verma was hearing a PIL on inhuman conditions of quarantine centres and the state of Covid treatment in UP. The bench angrily observed" In any civilized society if public health system is not able to meet the challenges and people die for want of proper medication it means there has been no proper development. Health and education go side by side. Those in the helm of the affairs of the government are to be blamed for the present chaotic health problems and more so when there is a democracy which means a government of the people of the people and by the people".
But the Yogi government refused to obey High Court's order and declared that it was not thinking of a complete lockdown in these districts rather it will impose further restrictions. One of the senior officer additional chief secretary (Information) Navneet Sahgal said that government has to think of lives and also of livelihood It was most unbecoming at the part of the government to thus openly and blatantly refuse to obey the High Court's order. Government has every right to go in appeal against the order in Supreme Court or file review petition in the same court but thus disobeying is some sort of contempt of court. However, the government after immediately refusing to abide by the court order went to Supreme Court and expectedly got the stay order against High Court's order.
God knows what prompted Hona'ble judges of Supreme Court to grant stay order on Allahabad High Court's order. The ever obliging Supreme Court usually refuses stay order against any order or law enacted by BJP government even if the fundamental and constitutional rights of people are violated, like CAA, abrogation of article 370, trifurcation of J&K, laws against love Jihad etc. but granted stay order on a High Court's order that was meant to save the lives of hapless people of UP. What learned judges of Allahabad High Court have said is worth reading. The bench which perhaps has anticipated government response observed" Economy, economy, and economy is the only tune government is all the time harping upon. But bread and butter if you take to a person who needs oxygen and medication it will be of no use to him. The popular government may have its own compulsions but we may not remain mere passive spectators –we may not shirk away from our constitutional duty to save people from pandemic which is spreading due to the negligence of few."
Advocating the lock down the Bench said" In the given scenario if people are restrained from going outside their homes for a week the current chain of spread of Covid infection can be broken and this will give some respite to the frontline medical and health workers. On the ground situation the court said from tracking to testing things had failed patients have outnumbered hospital's bed people are running pillar to post and in this process attendants are not only getting infected but others too.
The deadly dance of death in Uttar Pradesh and collapse of medical and health care system has unnerved the common man. Everyone is waiting for his/her term. No one has any faith on the system. We all are living at the mercy of fate. But the government has its own priorities. Does the question of livelihood is the only reason behind not declaring lockdown, definitely NO. If the lockdown is declared in a planned and with a well thought out strategy the government and our people could afford not one week but one month's lockdown. You go and ask any person the reason behind not imposing lockdown the response will be Panchayat election. Not only a common man but even learned judges of Allahabad High Court have realized that Yogi government's top priority is winning maximum seats in three tier Panchayat raj elections which will give boosts to its political fortune in not too far assembly elections. The same bench also expressed its displeasure at the ongoing Panchayat elections in the state." No activity must take place where it was not possible to keep people away from each other, action is liable to be taken against the organisers. The action taken shall be placed before us" The learned judges have perhaps forgotten that it is the government of a party which is known "as the party with a difference". This government will place the action taken report before the said bench in shape of a stay order from Supreme Court.