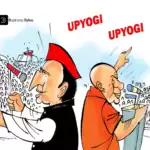 Raza Hasnaiin Naqvi
Political calculations suggest that Yogi Adityanath and Akhilesh Yadav are the prime contenders for the title of 'Most Upyogi Chief Minister for UP'. Allegations and counter-allegations may continue till UP assembly election results are announced, but the title fight will be a hard fight.
Former Chief Minister Akhilesh Yadav and current Chief Minister Yogi Adityanath are doing their political best to come to a satisfying conclusion in the UP Assembly elections 2022. Both are going full steam ahead on rallies, yatras, remarks and alliances to ensure that one of them gets to wear the coveted crown. The fight is still hard and long that will finally bestow the title of 'Most Upyogi Chief Minister for UP' on one of them.
As the political bell rang in the ring, the most recent round of fight between Akhilesh and Yogi started on Dec 18, 2021. The Income Tax department conducted simultaneous raids on some Samajwadi party leaders who included private secretary of Akhilesh Yadav Jainendra Yadav, party spokesperson Rajeev Rai and Manoj Yadav.
The same day in Shahjahanpur, addressing a gathering after laying the foundation stone for the Ganga Expressway, Prime Minister Narendra Modi gave a new poll formula for UP. He said that UP+Yogi=Upyogi  and that Chief Minister Yogi would prove the most upyogi (useful) for the people of Uttar Pradesh in the coming elections.
The next day on Dec 19, 2021, the SP National President conducted a press conference and commented on the income tax raids and the upyogi remark. 
Akhilesh Makes Phone Tapping Allegations
Addressing a press conference after the IT raids on his party leaders a day back, Akhilesh alleged that phones of his party leaders were being tapped by the BJP. He added that Yogi too listens to those phone recordings in the evenings.
He also commented that it was an 'unupyogi' government that was running on Whatsapp University. He said that the BJP was scared of losing elections in the coming assembly elections and would resort to ED and CBI use also, besides using the IT department. He even alleged that some senior police and IAS officials of a particular caste colluded in ensuring that SP got defeated in Kannauj in the last parliamentary elections.
Read also: BJP Leaders Hit Out Akhilesh Yadav Over Lal Topi Remark, Demand Apology
Alliances Create New Power Strings
Akhilesh is going full steam ahead and creating one alliance after another with political groups and communities of influence in UP. He is bringing new blood in his political fight against the BJP in the state.
Yogi on the other hand has the backing of the Prime Minister of India and the even more powerful RSS in his fight against Akhilesh. The prime minister is taking a lot of time out of his packed political schedule to visit Uttar Pradesh. Some may comment that there are 28 states and 8 Union Territories in India and the Prime Minister giving so much time to just one state sounds biased.
Be that as it may, this only means how valuable the fight is in UP for both Yogi and the prime minister. A big chunk of MLAs and MPs come from Uttar Pradesh in the state assembly and the Parliament and the BJP would want to keep most of them from their own party.
It is another matter that there are BJP party leaders of influence who have left the party and joined hands with Akhilesh. The most recent entry into SP is of Ram Iqbal Singh who is a former BJP MLA from Ballia. BJP MLA from Khalilabad seat in Sant Kabir Nagar, Digvijay Narain Chaubey has also taken membership of the SP.
Both Yogi and Akhilesh are also making it a point to come as close to the voters as possible by yatras. Akhilesh is going from one district to the other with his Samajwadi Vijay Yatra. Yogi on the other hand is flagging off Jan Vishwas Yatra to explain to the people of UP all the upyogi things his government has done for them.
Read also: MP BJP to monitor anti-party statements by its leaders
Just a Thought
The people of Uttar Pradesh have to decide ultimately who will be the most 'upyogi' chief minister and government that will take care of them. Supporters of both Yogi and Akhilesh are shouting from the rooftops that their candidate is the most 'yogya' for the state. However, it is only a cool, calm and collected voter that will press that all-important EVM button on polling day who will get to decide the usefulness of either Yogi or Akhilesh in 2022.