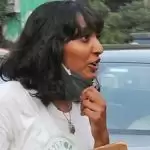 Ubaidullah Nasir
Which way our democracy is going? Can we still claim to be a constitutional democracy that has given its people certain rights including right of free speech and expression? Is India being converted into a police state? These are the questions that strike every sincere and concerned mind whenever there is some unwanted unthinkable police action and arrest of individuals whose only crime is that they dare to oppose the regime and stood for a just cause. Not only police act against these people with full might of state and media starts their character assassination, planting lies and falsehood even courts usually have failed in their duty of protecting the constitutional rights of these individuals. There are not only discriminatory but even laughable judgements from even highest court. A journalist gets immediate bail from the Supreme court but another languishes in jail for months even years. The only difference is that one stood at right side of the fence ie government side and the other side ie public. Not only police other agencies specially Enforcement Directorate and CBI are also used not only against opposition leaders but even against those individuals, social activists, journalists and common man who dares to oppose this government and shows their backbone.
The recent arrest of Disha Ravi a young climate activist from Bangaluru is the most shameful act of Delhi Police. She has been arrested for allegedly sharing with Greta Thunberg a "toolkit" related to the farmer's protest. She was brought to Delhi and formally arrested on Sunday and produced before a magistrate who sent her on five day police custody. Why she was not formally and legally arrested in Bangaluru itself and how she was brought to Delhi without her consent? Is not this violation of her constitutional and fundamental right? The Public Prosecutor claims that the "toolkit" was created as a part of plan to revive pro Khalistan groups in the country. According to the police a mobile phone was recovered from her but she has deleted all the data from it. On the other hand Ms. Ravi asserts that she has edited two lines in the toolkit and that she supports Indian farmers and was influenced by their protest. This clearly shows that this government sees farmer's protest not as the expression of their genuine grievances against three controversial farm laws but as a conspiracy to revive the dead Khalistan movement. This is the time tested trick of this government which paints every opposition, every resistance and every dissent not as an opposition and criticism to government but to the nation. For them every voice raised against them is a voice against nation. This is actually an established fascist tendency which must not have any place in a democracy.
Support is pouring for her from every possible side. The coalition for Environmental Justice in India said in a statement that the arrest of this young environment activist is the latest example of and continuing efforts to delegitimise the ongoing farmer's protest and the nationwide solidarity it has generated. Farm union leaders have also criticized the government action and have stood with Ms. Disha Ravi." They are charging her for sedition. This is a very serious issue. This government is bent upon punishing people who are in support of farmers "said Mr. Darshan pal Singh a farmer's leader. Even truck owners transporting raw material to agitating famers are also getting notices. This is the part of wider pattern of intimidation but it will not impact us negatively" he asserted. Congress General Secretary Ms. Priyanka Gandhi Vadra had tweeted a Hindi couplet "Darte hain bandooqon wale ek nihatti ladki se" ( Gunmen are afraid of an unarmed girl). Former union Environment Minister Jairam Ramesh tweeted "completely atrocious this is unwarranted harassment and intimidation." Former union home minister and senior Congress leader P. Chidambaram has bitterly criticized this arrest. "Indian state must be standing on very shaky foundations if a 22 year old environmental activist has become a threat to the nation. A toolkit to support the farmer's protest is more dangerous than the intrusion by Chinese troops into Indian territory. India is becoming the theatre of absurd and it is sad that the Delhi Police has become the tool of oppressor" he said. CPI(M) leader Sitaram Yechuri tweeted "This arrest will awaken the youth of the nation and strengthen the struggle for democracy"
Conspiracy against the nation has become the most powerful tool in the hand of this government and is used against every movement which has been spearheaded against the controversial laws it enacted, be it the anti CAA movement or this farmer's movement. Even in Hathras case where a young Dalit girl was raped and mercilessly killed the BJP government of Uttar Pradesh smelled the conspiracy hatched by PFI a Kerala based so called Muslim organization. Its activists are arrested even two journalists are behind bars since the incident took place and have yet not get bail.
A digital media house is under investigation by ED because it was not friendly to government. Bhima Kore Gaon activists are still languishing in jail and the courts have forgotten their own rule that "Bail is the right and jail is exception" . Independent constitutionally governed India is subjected to international criticism and our ranking in democracy has nosedived. Should not we introspect?