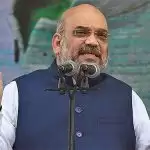 Ubaidullah Nasir
In a letter appeared in many important dailies union home minister Amit shah has listed few major achievements at the completion of first year of his government's second term (Modi 2) but all of them are legal in nature and have nothing to do with public interest and to their benefit. These legal steps which Mr. Shah counts as master stroke or history maker may satisfy the communal divisive ego of hardcore "Hindutvavadi" elements of our society but how they benefit the common man is a million dollar question. Let Mr. Shah explain how abrogation of article 370 has changed the ground reality of the state. Have people from outside that state got the right to purchase land there get job there install any industry there? A big NO. Secondly and more importantly this constitutional amendment was passed by Lok Sabha without the approval of J&K assembly which was suspended months before this constitutional amendment. As per our constitution approval from both J&K state assembly and Indian Parliament is a constitutional obligation to abrogate article 370. This amendment is challenged in Supreme Court and the judgement is awaited. A subjudiced case is being counted as achievement of government, is not this a big joke? What is there to enjoy and count it as major achievement of this government is difficult to understand.
Similarly construction of Ram Temple at Ayodhya is also counted as a major achievement. Here too it must be noted that not the Modi government but the judgement of Supreme Court has paved the path for construction of this temple. However, it should not also be forgotten the SC has accepted all the claims of opposite party like illegal installation of Ram Lala idol in mosque in 1949, demolition of the disputed structure in 1992 and has also not found any merit in the claims of a temple beneath the disputed structure. It has only handed over the disputed land using its special authority under section 131.However, how this judgement is going to benefit the masses? Will the temple solve the bread and butter question of Hindu masses except of course of some Pandas sadhus and government officers. It should also be noted that many legal lumanaries constitutional experts retired judges of SC and HCs including Justice Katju, Justice Lokur, Justice Banerjee, Justice Shah, and Justice Sawant etc.have questioned the judgement and termed it as gross violation of fundamental and constitutional rights of Indian Muslims. The nomination of ex chief Justice Gogoi whose bench delivered this questionable judgement to Rajya Sabha immediately after his retirement has given strength to the doubt that judgement was influenced by Modi government which in itself is a shameful and unconstitutional. How could this government count it as its achievement?
Amendment in citizenship act (CAA) too has been counted by Mr.Shah as a major achievement of his government in its second term conveniently forgetting that this amendment brought lakhs of our people on road to oppose it. First voice of opposition was raised by Assamese and whole of NE was up in arms against this law as people of this area saw it as a ploy of 'Hindutvavadi Modi government' to change the demography of their area which may endanger their special culture traditions and language. Then it was also opposed by secular people of our nation as they saw it as violative of our constitution which do not recognize religion as base to grant citizenship specially when only Muslims were kept out of its purvive. Muslims too were naturally perturbed with this law which according to announcement of Mr. Amit Shah himself was to be followed by NRC and NPR seen together all three laws were a great danger not only to Muslims but all poors and downtroddens of our country for whom presenting the papers to prove the citizenship of their forefathers would have been an uphill tasks. Protests started all over India but it was Saheenbagh protest of Delhi which created a history. Thousands of Muslim women old and young educated and uneducated joined by hundreds of non Muslim ladies sat on dharna there braving severe cold wave rain and storm .The moral support provided to these ladies by every section of society was heart touching food water blankets and other necessary items were provided by Gurudwaras and other religious places hundreds of Sikh youths were visible providing food packet water etc. After few days many Shaheen Baghs emerged all over the country. But the BJP government and so called Godi media showed shameful insensitive towards these protestor terming it as antinational.Every possible effort was made by government and media to communalise the protest it was brutally crushed in UP where police broke all its own record of brutally beating the protesters framing them under draconian laws and recovering the damage to public property even without any court order . This law also brought international condemnation of our country for the first time in our history. Human rights bodies including UNHRC not only condemned it but also applied to be a party in the case under consideration of Supreme Court of India. So Mr. Shah a controversial law opposed by millions inside the country condemned by international community and whose constitutionality is under the consideration of Supreme Court how could you count it as your government's achievement. Is not this laughable?