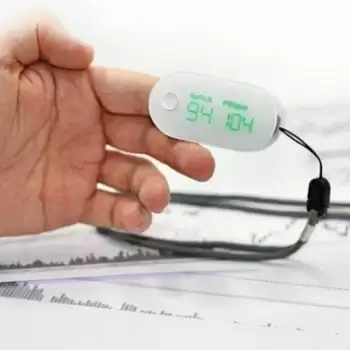 by ZSS
Lack of ICU beds and lack of oxygen in hospitals is also a matter of great concern amid the increasing suffering of patients during the devastation of Corona virus. There is a fight for oxygen on the other side. However, AIIMS director Dr. Randeep Guleria himself has said that there is no need to give oxygen therapy to all patients. Therefore, along with oxygen saturation, it is also important to understand in what circumstances a patient should turn to the hospital.
What is Oxygen Saturation- Oxygen saturation indicates the level of oxygenated hemoglobin of the blood going to the lungs and all the organs and helps in functioning of body function. In the reading, more than 94 levels of this is an indication of being out of danger. Doctors say that there can be a rapid decrease of oxygen in the body when there is corona.
According to experts, Spo2 level between 94 and 100 is a sign of our well being. Whereas going below 94, it can trigger hypoxemia, which causes many problems. If the level of oxygenated hemoglobin is continuously going below 90, then it is an alarm of danger. You will need medical help immediately.
Intensive oxygen support – Shortness of breath, chest pain or shortness of breath are signs of oxygen being affected in the body. Some patients may complain of respiratory infection due to sudden drop in oxygen level and may also affect all organs and regular function. Lack of oxygen in the body and shortness of breath can be effectively prevented at home to a certain extent. There is no need for hospitalization for this. Take the patient to the hospital only if the condition worsens too much.
Oxygen below 91- If the oxygen in the body is above 95 then there is nothing to panic. If the oxygen level is between 91-94, then it needs to be monitored continuously. But if the oxygen level is continuously dropping below 91 for 1-2 hours, then you need medical help immediately.
Color of the face or lips- Almost everyone is aware of the common symptoms of corona virus, but there are many hidden symptoms in it that people are not able to notice. Blueness on the lips and sudden color of the face are counted in such symptoms. Sudden blinding of the skin or lips is the hallmark of cyanosis. This problem occurs due to lack of oxygen in the blood. Our skin gets red or pink glow due to healthy oxygenated blood, so such symptoms are seen when there is less oxygen.
Chest or lung pain- sudden drop in oxygen level in corona patients can be dangerous. During this time, if you are having chest pain, shortness of breath, chest pressure, persistent cough, restlessness and severe headache, then you may need the help of a doctor. In such condition, be ready to be admitted to the hospital immediately.
Lack of blood flow in the brain- Lack of oxygen in the blood also affects the blood flow reaching the brain. Also, many 'core blood vessels' are also affected which control neurological function. In this case, the patient may also have problems related to confusions, dizziness, fainting, decreased concentration and visual disorder.
It is also being claimed on social media that by taking steam, the corona can be destroyed and the breath can be relieved. For this, people pour various types of oil into the water and steam it. However, health experts say that there is no scientific evidence for this. Health experts say that continuous steam can damage the duct between the throat and lungs, which can make the symptoms of corona more severe.
Apart from this, in some viral posts, cloves, celery or camphor are being described as an unmatched recipe for shortness of breath. Avoid using any such experiment at home. Keep in mind that such things have no scientific basis.