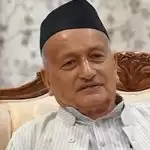 How could a protector of constitution mock the constitution?
Ubaidullah Nasir
Crossing all the limits of constitutional propriety decency and the oath he took as a governor, Maharashtra's Mahamahim"(governor) Bhagat Singh Koshyari wrote a letter to his Chief Minister Udhav Thackeray suggesting him to open all places of worships even the threat of Pandemic 19 has not died down and union health minister Harshvardhan has warned that in winter season it may reemerge. Not only his letter was not in the fitness of things and beyond his constitutional obligation but the language he used is not only unconstitutional but "anti constitution." In an unusual worded official letter demanding immediate reopening of all places of worships governor Koshyari mocked the Chief Minister sarcastically asking him that" Had he suddenly became secular from a Hindutvavadi leader" forgetting the fact that the secularism is a constitutional obligation and he has taken the oath to protect the constitution whose basic feature is secularism. Mr Koshyari as a senior politician must be knowing that as a RSS Pracharak (Preacher) secularism may be a taboo for him but as a constitutional head he has to abide by that constitutional obligations. He must know that when three BJP ruled state governments were dismissed by Narsimha Rao government after demolition of Babri Masjid SC has justified the dismissal saying secularism is the basic feature of our constitution and that can't be compromised. Earlier in Keshavnand Bharti case the 11 member constitution bench has ruled that the basic feature of the constitution could not be changed even by parliament and secularism is one of the basic feature of constitution. Chief Minister Udhav Thackeray hit back by reminding him that the word secularism is in the constitution he has sworn to protect, when he took oath of office in Raj Bhavan. He further reminded Mr. Koshyari that he did not need his Hindutva credentials certificate. Obviously Mr.Koshyari has not written this letter out of his religiosity but to further the cause of state BJP unit which has started a movement to get the Sidh Vinayak and other temples opened caring little for public health due to Covid 19 threat.
Maratha satrap and President of NCP Sharad Pawar took strong note of Mr. Koshyari's letter. In a letter addressed Prime Minister Narendra Modi expressing shock and surprise at the intemperate language used by Mr. Koshyari he said that the word secularism is added in the preamble of our constitution." In democracy free and fair exchange of views between governor and the chief minister must take place but it should always be in keeping with the stature of the constitutional post occupied by the individuals" he wrote.
Mr. Koshyari's letter is in open violation of the oath he took as governor. In this capacity he is the protector of constitution and could not mock the word "secularism" like a RSS pracharak. There is no hope that President of India will remind him of his constitutional obligations as he himself has failed in protecting the constitutional arrangement when he signed CAB which is against the spirit of our constitution and abrogation of article 370 bill which was passed by the parliament in open violation of the constitutionally necessary procedure as the consent of J&K assembly was not obtained which is the constitutional arrangement to abrogate it. There are only two ways that can show gate to Mr. Koshyari first he is impeached and removed by state assembly two a PIL is filed in SC against the governor requesting the top court that since he has violated the oath he took to protect the constitution, he has failed in his duty and so may be removed.
First of all, the governor as the constitutional head of his state is not ought to interfere in the day to day working of the popularly elected government. His role as a governor is very limited only to see that the government is working within the four walls of constitution but usually governors not all but most of them have worked more as the agent of their party and the central government. They have gone out of their way to create problems for the elected governments specially whenever there has been a question of majority in the house, but the governors appointed by Modi government have gone much beyond that limit.They are working their as the leader of opposition or BJP state chief . Remember how UP governor Ram Naik used to forward almost one letter daily to then chief minister Akhilesh Yadav even on minor issues but when Yogi ji took over as CM he became a mute spectator and finally left the Raj Bhavan or also see how Bengal governor Mr. Dhankad is not only at loggerhead with CM Mamta Banerjee but most of the time behaves like a Sangh Pracharak not as a constitutional head. Another governor refused to read the lines criticizing Modi government in his address to the state assembly. This speech is prepared and approved by cabinet and governor is ought to speak accordingly because he is the constitutional head of that state government and frequently uses the word "My government
Constitution is not merely a bunch of few lakh words it has a spirit also. Since the emergence of Modi brand of politics this spirit is being killed in a sustained manner. No constitutional body an institution now has teeth and back bone. All of them have systematically been made paper tigers. This is very dangerous phenomenon and must be curbed constitution in letter and spirit has to be saved to save India.
Disclaimer: The views expressed in this article are the personal views of the author. Buzinessbytes is not responsible for the accuracy, completeness, practicality or truthfulness of any information provided in this article. All the information has been presented in this article as it is. Any information or facts or opinions expressed in this article are not of buzinessbytes, and buzinessbytes is not liable in any way for them.