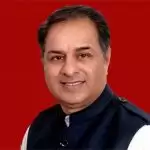 Ubaidullah Nasir
The death of brilliant Congress spokesperson Rajiv Tyagi during a high decibel most acrimonious and communal TV debate on Aaj Tak channel has once again raised the question on the efficacy of such debates. Such debates were meant to highlight and inform the viewers with different angle of any issue but since 2013 specially with Anna movement they have started setting political agenda and it seems most of the channels were given supari to finish Congress and paint it with all the evils facing the nation. So much so that even the panelists were allegedly decided from Nagpur and anyone presenting or defending the congress version was ousted. Not only they created an atmosphere against Congress but they did their best to tore apart the social fabric of nation and played very important and active role in polarising the society that was going to benefit the BJP. Their jingoism and war mongering against Pakistan also played a role in destroying Indo- Pak relations and all that was achieved by Atal ji and Dr Manmohan Singh in improving relations with Pakistan and thus bringing peace and tranquility not only at border but in J&K also all was undone. All this was a part of greater conspiracy to polarize the Indian society and thus win the election and they succeeded in their game plan .
with the passage of time and with Modi at the helm of affair every institution was filled with the persons of a definite ideology . Media that is the fourth pillar of democracy which ought to play the role of watch dog of constitutional democracy which has to be more responsible than any other institution and to whom journalists like Ganesh Shankar Vidyarthi have shown a path by sacrificing his life for protection of secular values of the society. That very media and those very journalists have become the platform of hate mongering against Muslims. For the last six years not a single day has passed when there have not been communal polarizing debates on TV channels in which Muslims and Islam is demonized. This has so much communalised and polarized the society that even mob lynching, rape and other heinous crimes against Muslims are seen with religious angles and are shamelessly directly indirectly defended by raising the bogey of "Tab kahan the" (Where were you then). There has become a general feeling among a section of majority community that Muslims deserves this. It is the result of the atmosphere created by electronic media against Muslims.Even secular minded Hindus are at their target they are termed as "Jaichand and Vibhishan ki aulad"anti Hindu anti nation urabn naxals Khan market gang and Sickular etc.
A new trend has emerged among these channels and that is asking question from the opposition particularly Congress instead of internationally accepted norm of asking question from the government. These channels and most newspapers works as the Press Information Bureau of government of India and state information and public relations deptt. It is because of this shameful trend in Indian media that it ranking has become 138 out of 150.Every senior and sincere journalist is worried with this new trend in media. Most of them have been ousted from their job by their proprietors under pressure from government. Modi ji do not mince words in targeting and getting fired such journalists who adhere to old norm of asking question from the government. Remember how about a year ago while inaugurating a new TV channels Modi ji shamelessly and blatantly said to the owner of the channel that you have filled your staff with the journalists who used to criticize me and within few months almost all such journalists from that channel were shown the door.
A major Muslim organization who has played vital role during freedom movement and rejecting the two nation theory Jamiatul Ulema Hind has moved SC to restrain these channels from airing communal hatred and targeting Muslims. SC has asked the petitioners to make Press Council of India and Broadcasters association of India a party the case is under consideration of the court hope it will issue some guidelines so that these unguided missiles of hatred are restrained to some extent. Though the administration could take action against such channels under different sections of IPC but when these channels are working for the government and ruling party how any legal actions against them is possible "sayyan bhaye kotwal to dar kahe ka".
Congress and other non BJP parties have decided to boycott such debates. This boycott continued for almost a year but now they have started sending their spokesman but after what has happened with Rajiv Tyagi how he was targeted by most foul mouthed spokesman of BJP Sambit Patra, it is hightime that all the parties boycott TV debates not only their official spokesman but even their sympathisers must be restrained to appear on TV screen. A majority of people has already stopped watching these high decibel nonsense communal hate mongering debates.All these political parties should also become a party in the petition pending before SC and should try to get a guideline from there so that there is no other Rajiv Tyagi from any other party. To save the nation and its society these channels have to be restrained.